Maintaining a vehicle is more than oil changes and filling up the gas tank; it requires consistent care of the exterior and interior body, cleaning every surface to maintain the "fresh off the lot" look and to prevent corrosion under the hood. Furthermore, maintaining a clean and well-functioning vehicle can help with resale value later on, if you ever choose to sell your car.
The auto industry is rich with new products at every corner, and TopCoat F11 offers both individual products and kits that could help consumers to maintain the gleam that they want on their vehicles. Read on below to learn more about what this brand can do.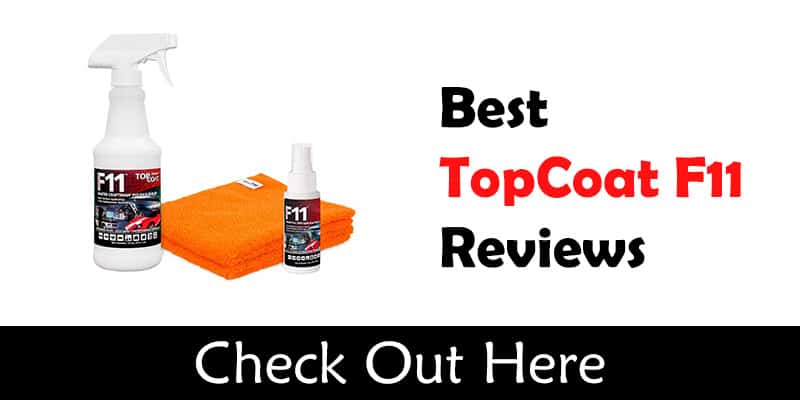 My Best Choice for Polish & Sealer:
TopCoat F11 Polish & Sealer
TopCoat F11 Polish & Sealer Single Bottle is made in the USA and is used for both polishing and sealing the clearcoat surface of the vehicle. With its application, the formula uses a water base for the non-stick eco-friendly formula, containing no solvents or abrasive compounds. The process of applying the Polish and Sealer formula takes less than half of the time that you would otherwise spend on waxing, and there's no need to get any other cleaning gear assembled for its use. Due to the composition of the remedy, no white residue is left behind.
By applying this treatment to your vehicle, the harmful effects of bird droppings, bug splatter, and other environmental hazards are nothing to worry about, as it even covers up the light abrasions that can arise with everyday use. With the ability to easily handle high temperatures, you can use the product on engines, glass stovetops, and more. It is safe to apply to chrome, rubber, steel, aluminum, glass, fabric, vinyl, and leather.
This product is available on Amazon and it is meant to be used on vehicles, motorcycles, RVs, boats, and planes. You can get a good deal on multi-packs of the single bottle, if you want to stock up.
What we Liked
 It polishes and seals the clearcoat.
It leaves no white residue.
 It offers a formula that is non-stick and eco-friendly.
It can be used on many different surfaces
 It is time-efficient.
What we didn't like
It is a single item, not a set.
It requires a hand application.
It may contain some "volatile organic compounds."
TopCoat F11 Master-Craftsman Polish & Sealer
The TopCoat F11 Master-Craftsman Polish & Sealer is fairly similar to the standard Polish & Sealer, including a 16-ounce spray bottle, a 2-ounce TopCoat F11 Polish & Sealer in a travel size, and two high-quality microfiber towels. While the travel size Polish & Sealer holds enough of the formula for an entire first application, the Master-Craftsman formula simply enhances the effects. Offering the same benefits as the Polish & Sealer, this purchase provides greater options for consumers, as it contains accessories that can improve the general experience.
With the ability to conceal even micro-scratches, you can hide all the dings and scrapes that happen with daily use. The product is water-resistant, so a rainy day won't leave you stuck doing another car wash, and won't ruin the protection from droppings, bugs, dust, or other environmental debris. Like the original formula, this product can be used on multiple surfaces and is safe to use at high temperatures.
If you are looking for TopCoat F11 Pro Prep Kit. You can check this product also.
What we Liked
It includes all of the benefits of the original formula.
It offers multiple products in one set.
It leaves no streaks.
It conceals small scratches.
What we didn't like
It requires hand application.
It may require microfiber cloths.
It may contain some "volatile organic compounds."
TopCoat F11 Pro Prep Kit
The TopCoat F11 Pro Prep Kit combines multiple products from the TopCoat F11 line, including a gallon of F11, a 16-ounce F11 spray bottle, a 16-ounce Poly Wash Bottle, and 10 Ultra Micro Pro18 Towels. Before any of these products even touch your car, it needs to be freshly cleaned and free of any buildup.
To prepare the solution, mix the Poly Wash liquid with the recommended ratio of water, applying it to the vehicle, motorcycle, or other machinery as needed. The creators behind this product promise that it can clean any surface easily, creating no new damage to the vehicle. With both F11 and Poly Wash to clean and treat your car, the treatment dries quickly, though you still need to hand-dry the surface.
What we Liked
It is the most inclusive set from TopCoat F11.
It offers the same benefits as the original formula.
It offers many products.
The items leave behind no stickiness and are easy to apply.
What we didn't like
The solution requires additional steps before it can be applied to the vehicle.
It will require some labor to apply.
Our Recommended Alternatives of TopCoat F11
Even with the performance of the TopCoat F11 product line, you may find that you need products that are specific to your concerns, rather than having an "all in one" solution. If the TopCoat F11 don't offer what you need, here are alternative options that may fill the void.
1. Chemical Guys HOL148 Arsenal Builder Wash Kit
The Chemical Guys HOL148 Arsenal Builder Wash Kit includes 16 separate car wash items, including a "wet wax," a glass cleaner, a microfiber wash mitt, a short handle brush, four towels made of microfiber, a separate applicator, a wheel gel, and more. The included foam gun can attach to any hose for a good power wash. Ultimately, this set is means to help you gather everything that you need for washing a car, but the longevity of these products isn't clear.
With the applicator pad, you keep your hands clean and your car scratch-free, soaking up the excess water before it creates unwanted spots. The applicator can also be used for spreading wax and tire shine without losing any product.
The Chemical Guys brand is known primarily for auto care, but product lines on their website show similar formulas for ATVs, motorcycles, and marine vehicles.
What we Liked
The kit includes multiple products to wash your car.
The product allows users to pre-soak the car.
The formula prevents scratching on the clearcoat.
It includes a dirty trap in the bucket to maintain the water's cleanliness.
What we didn't like
This product cannot be used on ATVs, motorcycles, and marine vehicles.
It isn't clear how long the effects of using this product will last.
Many steps are required to fully wash your car.
The Foam Gun requires a standard hose, which is not included.
2. Adam's Ceramic Spray Coating 8-Ounce Complete Kit
Adam's Ceramic Spray Coating 8-ounce Complete Kit allows you to treat a range of different areas on the vehicle, including the wheels, painted surfaces, glass, headlights, plastic trim, chrome, and more. To get the best results for this product, it should be applied in sections, working it into the surface progressively.
This ceramic treatment lasts for at least 6-8 months, and the other components of the kit improve the effects of the treatment. With hydrophobic properties to repel water and durable protection, this remedy offers the gloss that you want to see. While better-known products can take days to cure, the spray coating only takes a few hours, which reduces the amount of time that the vehicle's sheen could be damaged. By applying this hydrophobic ceramic coating, the formula prevents scratching with a clear coat over the paint.
This kit on offers a three-pack of the microfiber towels to clean any painted surface, headlights, soft tops, chrome, wheels, and more. The user-friendly design, according to the company, makes the kit the "BEST sprayable ceramic cleaning kit on the market."
What we Liked
This kit includes non-abrasive formulas.
It prevents scratching.
Several towels are included to treat multiple types of surfaces.
It comes with a satisfaction guarantee for returns.
What we didn't like
Every single product needs to be used for the promised effects.
It requires additional preparation before treating the vehicle.
3. Meguiar's G55107 Dual Action Power System Kit
The Meguiar's G55107 Dual Action Power System Kit includes wax, polish, and a compound for full vehicle care. The set comes with a separate microfiber pad for each of these products, which can be attached to any standard power drill to work it into the surface for the best protection and polishing. The red pad is for the Ultimate Compound, the yellow pad is for the Ultimate Polish, and the black pad is for the Ultimate Liquid Wax. Each of the pads only require a small amount of product and light pressure, except for the Ultimate Compound remedy, which will need a little extra pressure. The wax needs cure for about 3 to five minutes before you remove it. For the best results, attach the pads to a 3/8" corded drill.
Unlike the other recommended products, the dual-action motion with the pads lets you remove oxidation from your vehicle. Oxidation, when left untreated, can cause a lot of damage over time, but the removal prepares the vehicle better for applying wax. Using the microfiber pads, the application of wax takes about 30 minutes to complete, but without the elbow grease that you need when you apply wax by hand.
What we Liked
This set offers different microfiber pads for each formula to reduce contamination.
The pads reduces physical labor for application.
It can remove oxidation and other defects without harming the vehicle's current paint.
What we didn't like
The pads require a drill, which is not included in the set.
The product must be applied perfectly the first time, as it dries quickly.
4. Wolfgang Deep Gloss Paint Sealant
The Wolfgang Deep Gloss Paint Sealant is considered the "flagship" product of Wolfgang's line, offering protection for the vehicle for four to six months. Paired with an Instant Detail Spritz, you can get longer performance of the sealant, though it should be applied with the microfiber applicator that Wolfgang provides in this purchase.
The polymer technology gives this sealant the same performance of traditional carnauba wax but lasts longer. The coating keeps dirt off, keeps vehicles cleaner for longer, and extends time between washes.
What we Liked
It protects the vehicle for up to six months.
The protection can last longer by using the included Spritz formula.
It works more effectively than canuba wax.
The use of this product increases the time between washes.
What we didn't like
No other products are included to wash and protect your vehicle.
Limited information is available on Amazon about the product.
What Is TopCoat F11?
TopCoat F11 uses an innovative technology that uses Eco-friendly ingredients for a green option in auto care. With no harmful chemicals, these products are safe to use on a regular basis, though the FDA has yet to state that it is safe to use on surfaces that share food preparation areas. Many of the advertisements surrounding TopCoat F11 urge you to imagine never waxing their vehicle again or even setting up a car wash for your vehicle at home. Instead, the creators of the product line state that the process only takes a few minutes to get the same or better coverage that could come from hours of work.
These products make for happy customers, who can use the products on a variety of surfaces and vehicle styles with no residue, no streaking, and radiant shine. The Hydromorphic formula keeps vehicles slick, rain or shine, though it doesn't have a sticky texture like other brands.
Buying Guide: TopCoat F11
Application Tips
A clean surface for a bike or vehicle is required before TopCoat F11 is applied to ensure that the product bonds properly with the first application. Though several coats of the product are safe, you need to wait about 24 to 48 hours to allow the coat to settle for the best performance.
TopCoat F11 is designed to work on a variety of materials, and is safe to apply on denim, powder coatings, metallic paints, dark colors, and other high-luster surfaces. The manufacturer states that consumers should not apply the product to seats or walking areas in the vehicle.
Along with the main body of the vehicle, F11 is safe for use on acrylics and plastics, though it won't yellow the material like some other products might. It is compatible with use on motorcycle windshields, boat windshields, aviation windshields, window tint, wraps on vehicles, vinyl stickers, and more. Just like with denim and metals, the TopCoat F11 will be able to fill in the micro-scratches and swirls in the material for better clarity, which is necessary for safe driving.
Regardless of the surface, immediate buffing is necessary to prevent streaking and to bring out the original colors. Though the product can be applied to any of these surfaces in direct sunlight, applying it at an ambient temperature and without direct sunlight will yield the best results. A cool surface allows the product to be properly applied. If you just had your car painted, a full cure can take about 90 days, and the TopCoat F11 formula should not be applied before then.
If low temperatures cause the formula to freeze, TopCoat F11 will only be impacted if it happens more than three or four times. The 16-ounce bottle should be enough for the original application (about 2 ounces), though each additional application will require less.
Longevity
When applying TopCoat F11, the typical lifespan of the product is about three to six months. The physical wear of car washing, hand washing, chemicals, and exposure to the environment may play a role in how long it lasts. To extend that timeframe, keep the vehicle in a garage or other protected indoor area whenever possible.
Removal
Removing TopCoat F11 requires aliphatic or aromatic solvents, which include glycol ethers, benzene, toluene, hexane, etc. Highly concentrated isopropyl alcohol may also be effective, but it depends on how much TopCoat F11 was applied in the first place.
Safety
At this point, the creators of TopCoat F11 have yet to go through FDA testing to examine the safety of the formula for food prep surfaces. For that reason, the manufacturer presently states that it is not safe in these areas. However, it can be used to clean non-food surfaces like stainless steel appliances, cabinets, back splashes, glass mirrors, and more, since the grease can be wiped off easily. This formula prevents smudging from fingerprints and is not flammable.
Warranty
The creators behind TopCoat F11 cannot predict all of the circumstances that you might come up against with your vehicle. That being said, they do not offer any warranty for their formula, and explicitly state that they will not be held responsible for "any losses, injuries, or consequential damages." The company reminds the public that the formula needs to be applied every three months if you want to expect the performance advertised on the website, though many customers choose to apply it every six months instead.
Difference Between Wax, Ceramic Coating and Sealant
Every vehicle exterior requires protection from the elements, dirt, and debris, which is why you may turn to wax, ceramic coating, and sealant to do so. Wax, the most traditional option, is the easiest to apply, regardless of skill level. The preference of wax over ceramic coating or sealant is often a matter of price and ease, as well as the organic material that wax offers. However, wax can be applied as the final coat on a vehicle, even when sealant is used. Wax is substantially less durable than ceramic coating, but it may be right for your vehicle is you're particularly short on time or you have a controlled environment.
The purpose of ceramic coating is to protect the paint, using synthetic agents to protect from contaminants and create a shiny and glossy finish. Ceramic coating bonds with the paint and is considered a permanent product, which only can be removed with polishing or lack of maintenance. Ceramic coating lasts for about one to two years and has high durability, but it is difficult to apply, typically requiring professional help to remove. The use of ceramic coating improves scratch resistance but is not scratch proof.
Sealant also helps with the longevity of protection, providing a barrier on the paint's surface to improve bonding capability. A sealant lasts for about six months to a year but is not as durable as ceramic coating. Still, it is easy to apply and easier to remove than ceramic coating, coming at a cheaper price. Sealant is one of the last steps in treating the vehicle's appearance and they are ideal for vehicles that are used on a daily basis, rather than ones that are hidden away for special occasions.
Despite the protection that each of these options offer, regular washing is still a necessity to maintain protection.
While having any of these coatings makes a big difference in vehicle appearance, scratches and swirl marks will be locked into the coating with any of the products, and a clean car before application is necessary. Polishing, however, is not necessary in this treatment.
How to apply TopCoat F11 for the first time?
Before applying F11 Topcoat for the first time, wash and clean the bike or vehicle away from the sun to avoid air-drying, as this will remove any dirt and debris that could become abrasive. However, avoid formulas with wax or silicone, and remove any coating that was previously on the vehicle. If the former coating cannot be removed for any reason, wait a week or two to ensure that the coating doesn't impact the effectiveness of the Topcoat F11.
Then, spray the TopCoat F11 into a microfiber pad, wiping it on the desired surface. The formula should be buffed in immediately with dry and clean microfiber towels. You can also spray the formula directly on the surface, section by section, buffing immediately. Since TopCoat F11 is water-based, every spray and wipe will dampen it, so a second or even a third dry may be necessary.
The final buff should be done with a clean and dry microfiber towel by hand until the vehicle appears slick and smooth without any streaks. Considering how quickly this product can dry, the best way to avoid streaks is to apply the product in small sections. This application throughout the entire vehicle will set the stage for much easier treatments going forward.
FAQ:
1. Should I wash my car more often when I polish it?
Technically, yes. While polishing is not required when washing a vehicle, you should wash before polishing every time. If you plan to wash your car without polishing, you will end up washing it more often anyway, but it is not necessary as part of the polishing process.
2. Why detailing is also important?
Routinely detailing the vehicle is important to the preservation of a vehicle's original condition. With this care, a vehicle will continue to look brand new, though it won't look the same as it did on the showroom floor. With regular cleaning of the interior of a vehicle, especially with leather surfaces, the material remains in good condition, and you can prevent the cracking of leather over time.
Detailing the engine and undercarriage makes mechanical work easier and makes issues easier for your mechanic to diagnose. Furthermore, with clean bolts and fasteners, the chance of seizing drastically drops.
If you want to resell your car, detailing can make the difference between settling for less and getting what the vehicle is worth.
3. What is the main difference between washing and detailing?
Car detailing is a much more invasive and intense process than washing. During a detailing session, the vehicle is vacuumed, wiped down, and conditioned. The engine is inspected, sprayed, degreased, cleaned, and dried. The glass is cleaned, both on the outside and the inside.
In both detailing and washing, the exterior of the vehicle is washed, rinsed, and wiped down, though buffing is optional.
4. What is the difference between polishing and waxing?
Polishing smooths out any imperfections on the surface of the vehicle but doesn't protect it. Waxing enhances and protects a surface that has previously been polished, though it is non-abrasive. Typically, both should be done during the same session to properly smooth and protect the vehicle's surface. However, different cloths should be used.
5. How often polishing and waxing is needed?
Polishing and waxing should be part of a full detail on a vehicle, performed twice annually, unless excessive wear increases the need for it. A refresher can be done once every three months. While polishing requires a thorough washing before each time to eliminate debris, waxing doesn't require full polishing to get the desired look.
6. What is glaze or sealer?
A glaze is a formula that increases shine, meant to be applied after polishing. It is usually followed by waxing or the application of a sealant. Glazes do not protect the clearcoat but can hide imperfections in the paint.
A sealant is slightly different from a glaze, but the use of the products goes hand in hand. After applying glaze, a sealant can be applied before waxing. Sealant can improve the shine as well, offering protection that glaze does not have.
7. How frequently does my car need to be washed?
With average use, you should wash your car every two weeks or so. However, due to the way that Topcoat F11 protects car surfaces, washing should be minimal, if at all. The water-resistant formula protects the clearcoat from damage, reducing the amount of washing that it requires to remain clean.
8. Why do swirl marks appear?
Swirl marks, which are fine scratches that occur on the paint surface, can happen when using a dry towel on a vehicle, or when improperly drying. Dark-colored cars often show these marks for than light-colored cars. However, these formulas do not often show any streaks after application the TopCoat F11.
To avoid swirl marks, you need to be extremely conscientious about the amount of time spent on the waxing process. While TopCoat F11 formulas dry quickly, these marks can be avoided by treating small spots at a time in an environment that is cool, rather than hot.
9. What is oxidation?
Oxidation is a chemical reaction that causes the clearcoat on the car to deteriorate. As it deteriorates, the car loses patches of paint that will dissolve permanently. Once this damage occurs, the only hope of making a vehicle look better is with a completely new paint job, which is avoidable with the right care.
By protecting with TopCoat F11 products, or even other waxes and sealants, the paint can be protected from the chemicals that cause the onset of oxidation on clearcoats. Oxidation cannot be reversed or treated with TopCoat F11 products or any other brand. However, these products can be applied after the oxidation has been fixed to maintain the quality of the repair.
10. What is the difference between polishing, buffing, and paint correction?
While polishing, buffing, and paint correction are all helpful ways to keep up the appearance of your vehicle, each one offers something different. The terms get thrown around a lot but understanding what each one is can make a big difference.
Paint correction requires specialized machines, as well as polishing agents, to eliminate the particles that end up clinging to the clearcoat. These particles irritate the surface of the paint, scratching it and digging in, which ruins the clearcoat.
Polishing and buffing are relatively similar, as both smooth out the surface. Often, polishing is done with an abrasive that is attached to the work wheel of a machine, while buffing uses loose abrasive.
Final Verdict
Though we can give you many positive TopCoat F11 Reviews of our own, the only way to truly see what this product has to offer is to purchase it. Between waxes, sealants, polishes, and more, the way a vehicle should be maintained and treated primarily depends on personal use and storage. Vehicles with less activity may not require the lengthy coverage of production that TopCoat F11 products require, but the everyday driver could need the opposite.
If you're looking for products that last and that consistently provide the desired appearance, any of the products from the TopCoat F11 product line should help. However, there are several products listed above that could work for this effect, but several recent feedbacks prove that these products are the only ones that boast both little work and big rewards.
---