When driving your truck, you must be very careful about your surroundings. It is because any unexpected accident can occur anytime without prior warning. So, if an accident occurs how can you prove that you are right?
Your oath is not enough and therefore, you need strong evidence that can support you in case of emergency moments or any legal actions. That's why as a truck driver, you need the best dash cam for truckers.
A dash cam helps the trucker and owners in a wide range of ways. It should be powerful and capable to run for a longer time. Therefore, it is necessary to find out the best trucker dash cam that has the efficiency to support you high quality when you need. And that is why Dash cams are getting popular in trucking industry.
In this article, I'm exploring some of the highly-efficient dash cams for people who love is in the trucking industries. Keep reading to find your choice.
Top 6 Best Dash Cams for Truckers 2021
1. EACHPAI X100 Pro Dual Dash Camera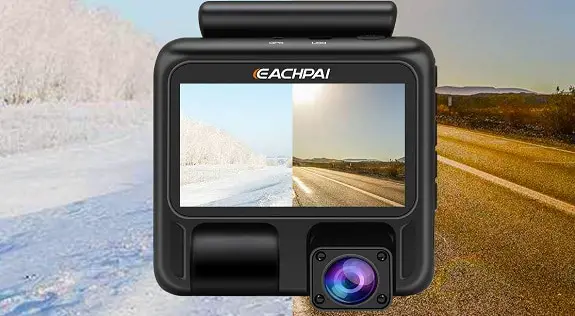 Why EACHPAI X100 is one of our best dashboard camera selections – there are several reasons. This dash cam features full HD 1080P resolution, front and inward lens, 150° wide-angle recording, and many more incredible features.
This dash cam is capable to record the entire road in front of the driver and inside the vehicle. It ensures 'no blind spot' while providing excellent video proof with HD clarity photos.
Being a user-friendly dash cam, it gives you very easy options to operate as well as view the photos and videos directly. Menu buttons are located beside the camera. Moreover, 3" IPS high-quality LCD screen ensures ease of use.
This dash cam features dual-channel video recording. The super capacitor is more heat-resistant, reliable and it comes with a longer lifespan.
Another exclusive feature of this dash cam is that keeps this out of the others is a built-in button battery. You may experience an accident and your vehicle can stop which also disconnect the dash cam from the power source. The built-in button battery helps to run it for more 3 seconds even the vehicle is stopped. It is really supportive as it can provide extra details of an incident.
EACHPAI X100 Pro Dash Cam has a loop recording feature which saves the storage and doesn't bother you with unnecessary footage. Its G-sensor helps to prevent the data from being over-written and protect the necessary file in case of sudden accidents.
GPS logger turns the video footage into the perfect evidence by adding the time and date to the video. Additionally, the built-in speaker and microphone record audio to prove the truth.
Features
Super IR night vision dash camera, an auto adjustment in the dark to capture high quality images.
Motion detection, it starts and stops automatically in the event of an accident.
Equipped with parking monitor, you need to set up it with a hardwire installation kit.
Wide dynamic range (WDR) allows to capture HD video in any weather condition, too light or dark.
2.0MP IMX323 sensor captures HD videos with more details, sharpness, and clarity.
Drawbacks
Few users find it as a big-size dash camera. I think this is one of the best dash cam for truck drivers as it doesn't obstruct the view and the trucker can do his job properly.
2. KDLINKS X1 GPS Enabled Wide Angle Dashboard Camera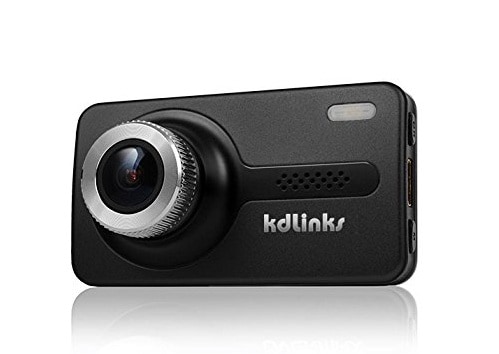 What might be the best dash cam for truckers comes with GPS module? If you have the same question, the answer is KDLINKS X1 dashboard camera with WDR and G-sensor. We know this is a bit overwhelming to find the excellent camera. But make your list short and add the X1 to your list.
I think this is actually one of the best GPS dash cams as it is equipped with the utmost quality GPS functions. It has a built-in GPS module. It can precisely add all the GPS data into your video clips.
Using X1 dash cam Player Software, you can monitor vehicle's location, route, speed and other relevant details on Google Map.
Usual cameras can bother you with their less storage capacity and lack of loop recording feature. But thanks to the KDLinks Team, this dashboard camera comes with this features, and therefore, you can simply install it and continue recording according to your needs.
Among many other modern solutions for trucker, I can particularly mention the night vision feature. Its night vision is just awesome because of the superior quality F1.6 Six-Glass lenses and unique wide dynamic range (WDR) video system which is why it works efficiently and records HD video in the low light environment.
As a top-rated dash cam, the X1 can record videos 1080P HD (1920x1080P) at 30 fps. It also features AR0330 sensor which is very much sensitive and captures the HD videos. Excellent HD videos ensure the proper safety of the drivers. On the large 2.7" screen, it is easy to view footage and detect the problem.
Features
Video recording with 165° super wide angle lens.
Continuous loop recording, 8GB micro SD card is included.
Accident auto-detection and emergency lock with G-Sensor.
Li-polymer 3.7v 110mah battery, ideal for use in different temperature.
Incredible customer support, e-mail reply within 24 hours.
Drawbacks
Not any significant problem found on this dashboard camera, but the construction materials should be improved. However, this dash cam still lasts longer.
3. Rexing V1 Dash Cam with G-Sensor and WDR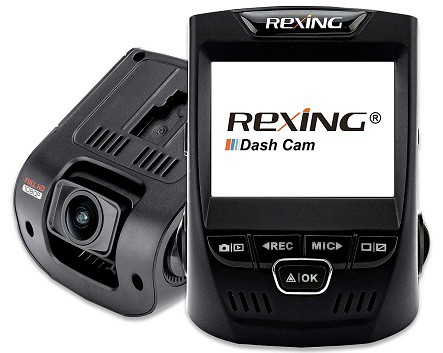 If you're looking for the best dash cam which won't break your bank, you should go for Rexing V1 dash cam. Yes, it is genuinely affordable. But don't worry; you will receive all the necessary supports from this device for driving safety.
Rexing V1 dash cam gives you something exclusive that other conventional cameras might miss. Sony Exmor IMX323, a powerful image sensor captures crystal-clear, beautiful video footage of the road. Full HD 1080p video recording @ 30fps improves the overall quality of the footage.
Though Wide Dynamic Range (WDR) feature is available in some other cameras on this list but I love its discreet design. It adjusts the exposure and records ideally in any lighting conditions. And the signature low-profile structure has made it a perfect well-hidden witness.
To improve image quality, it features a 170° wide-angle lens. Additionally, its 6-layers glass lens is capable to capture the more extensive view of the surroundings.
This is one of the best dash cams with parking mode which ensure 24-hour protection. The Parking Mode starts it automatically when it identifies any collision or vibration.
You're going to love this dash cam because of other reasons too. Loop recording capability allows it to record videos incessantly. If you want to increase the storage size, you can easily do it by using an external card up to 256GB.
Rexing V1 is available with high-temperature resistance and so it can retain its original efficiency and sleek look for a longer time. It is ready to work in any climate with a 160° (F) storage and a 140° (F) working temperature.
Remarkable Features
Rexing V1 helps you with accident auto-detection by utilizing strong G-sensor.
It is equipped with a 24-hour parking monitor setting for more security.
GPS Logger enables you to view instant information about your location, speed, and relevant factors.
It supports more storage (up to 256GB) than other usual products.
Easy installation, mount it on the windshield with adhesive mount included in the package.
Drawbacks
There is no noticeable drawback in this gadget. But be careful when using its internal battery and new memory card. The internal battery is designed for short-time emergency backup. And before using a new memory card, don't forget to format it directly from the product.
4. WheelWitness HD PRO Dash Cam (Advanced Driver Assistance)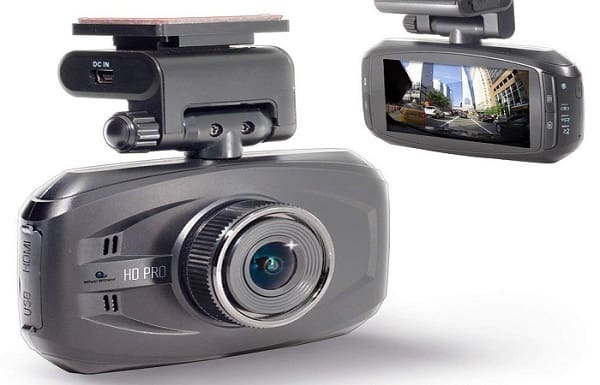 WheelWitness is a renowned name in the dash cam industry. This HD Pro dash cam from WheelWitness gives you everything necessary when driving.
You want to keep a perfect witness with you when you're on the road. As driving is not always smooth, you will definitely face hazardous situations but it could be easy and enjoyable when you have that perfect witness.
In many cases, the court doesn't accept the video evidence because of the worst quality picture. But this Pro model dash cam could be your right witness as it records ultra-clear 2K HD videos in 2304x1296P resolution. It features high-quality Ambarella A7LA50 processor and a wide-angle lens of 170°.
A larger display allows you to use the device with fun. The 3.0" LCD screen shows the instant preview of what is being recorded. You can also manage several settings, media playback, and menu options by the buttons of the screen side.
This device is your great companion in all weather conditions; sun or rain, day or night. Including the night vision feature, the WDR/ HDR technology shows complete balanced exposure that allows capturing razor-sharp picture and video in any light conditions.
The WheelWitness PRO has a built-in loop recording function. It enables the dash cam to record continuously and overwrites the unused or oldest data.
This is an easy to install product. You can follow the manual that is given with the gadget to install it.
Remarkable Features
An affordable and best truck dash cam with so many indispensable features.
GPS and G-sensor have enhanced the quality and efficiency of the product.
Comparatively, the highest resolution videos and better (2560×1080/ 2306x1296P) than any products listed here.
3X mounts for different vehicles; 1 suction cup and 2 sticky mounts.
Plug and play, very easy to install and operate.
Drawbacks
Generally, it has no drawback (I didn't find any). But if you find any technical problem (rarely), contact the customer support immediately. They provide excellent support, even with the picture to solve your specific problem.
5. Pruveeo C2 Dual Dash Camera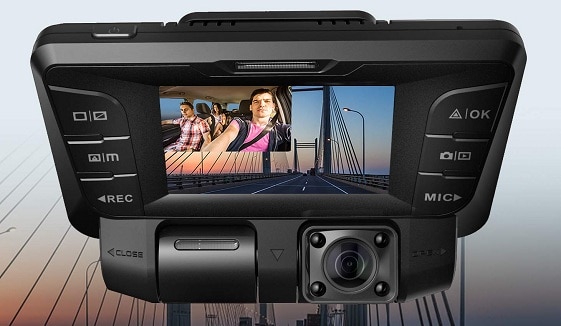 Driving let you enjoy new things daily. It can be more enjoyable if you have the best dash caminstalled in your truck. Not only for security but many new experiences, you can gather from your daily driving job.
So, the question comes necessarily – what's the perfect dash cam? Though there are numerous options, you can choose this Pruveeo C2 dash cam as the driving companion.
First of all, your attention will move to the design of this product. It's constructed with a unique low-profile design and it seems hidden when recording the front and inside. So nobody knows what's going on and possibly, it helps you to capture abnormal or awkward moments as well. It's fun!
I have mentioned this several times, but this is more special with the Pruveeo C2. Yes, this is the night vision feature. 4 infrared lights and F1.8 aperture have simply enhanced the quality of the capture. Moreover, Sony IMX323 sensor along with those features has made this device a perfect companion for the trucker in the night.
You already knew that Pruveeo C2 is a dual dash cam. But you can use any of the cameras individually or both at the same time depending on your needs.
Featuring Novatek NT96660 CPU, it records video of the road ahead and inside at Full HD 1920x1080P @30fps. When using only the front camera, it captures video at Full HD (1920x1080P) at 60fps or 2K (2560x1440P) at 30fps.
Its user-friendly design enables you to operate it effortlessly. The installation is easy and convenient. When you start your engine, it starts capturing. And when you turn off the engine, it stops capturing.
Last but not the least, did I mention that it has a G sensor that detects a collision? Yap, this will come to handy for recording the unwanted accidental crashing event.
Remarkable Features
Loop recording for storage management, record continuously.
150° wide-angle lens and both dash cams can rotate 180°.
2.7" larger LCD and crystal clear display.
Work smoothly in low and high temperature.
3M adhesive mount kits for better performance.
Drawbacks
The suction cup mount is not available in the package. You need to buy it separately if you prefer suction cup mount. Also, make sure to format the memory card before using it. Only SanDisk or Samsung EVO is recommended for Pruveeo C2.
6. Vantrue T2 160° OBD2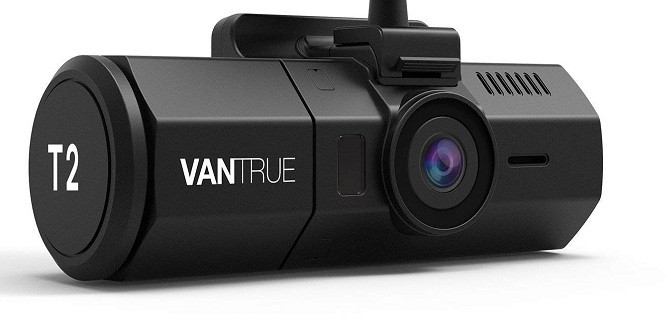 I noticed this camera in my friend's semi-truck and he gladly told me that this product is awesome. Then I looked into it and truly, all the qualities of this product dazzled my mind.
Vantrue T2 dash cam records high-resolution videos that support the legal procedure in the court. As it comes with NOVATEK NT96655 processor, it captures the road ahead with high-quality details. With 1280X720P @30fps or Full HD 1920x1080P at 30fps, it can capture the front 160° to take the picture of the number plate and road signs without stirring.
An exclusive feature of this dash cam is 'Auto LCD Off'. You won't be bothered by an extra rectangle on the windshield. It helps to enhance your concentration on the road and saves you from many of the troubles.
This dash cam features a snapshot button that captures instant images. Loop recording allows you not to be worried about the storage limit. It automatically overwrites all the idle and oldest videos with the newly recorded videos. You can modify the loop recording time. Depending on your needs, you can also increase the card limit up to 256GB.
For different working and weather conditions, a dash cam should be heat resistant. Due to the extreme heat resistance, Vantrue T2 works proficiently in cold and hot conditions. Besides the improved efficiency, it lasts longer maintaining the original quality.
You'll love its super night vision feature that is mostly attained by Sony Exmor IMX323 sensor camera. Advanced HDR technology perfectly adjusts the exposures to capture necessary details in low-light or dark environment.
Remarkable Features
Wave Guard Indicator, the OBD power installation to ensure 24 hours of parking monitoring.
Powerful G-sensor automatically locks the important video footage (of collision and unexpected shaking).
'Built-in audio record function' improves the video evidence quality.
 Efficient time-lapse feature and H.264 video coding ensure the quality pictures.
18 months warranty makes you more confident to select it as your perfect companion on the road.
Drawbacks
This product doesn't have built-in GPS. If you want to use the GPS function, you'll need to purchase an additional T2 GPS mount.
Things to Consider When Buying a Best Dash Cam for Truckers
If you are just looking for (as a new driver) the best dash cam for truckers, you may face trouble to select the ultimate one. Even experienced drivers get puzzled as the market is filled with extensively different types of dash cameras. However, make sure to consider the following factors when buying a dash cam for the trucker in 2021.
1. Easy to Operate
You have a costly and powerful dash camera, but if it is tough to operate, it will not help you at all. So, before considering the extreme-level quality, make sure that is very much user-friendly.
When it comes with simplicity, you can install it easily and operate it without any tedious efforts. Make sure your chosen dash cam has a simple user manual and the manufacturer provides the necessary support when you need.
2. Ideal Size
Though I look for many technical features, I cannot avoid the design and size when considering a perfect product. The smaller size seems much better than a bigger size. This is because it doesn't obstruct the view of the driver.
Depending on your truck, dash cam size can be varied. All dash cams will not fit ideally in every vehicle. So, look for different types of designs and sizes. Ensure that your selected device suits your vehicle perfectly. Moreover, the ideal-size dash cam should be installed easily without hampering your vision.
3. GPS Enabled Dash Camera
If your dash cam has GPS capability, it can efficiently support you in the court. Video evidence can be much stronger with GPS location and the speed of your vehicle.
Audio and video are important to prove that you were right but in the event of legal cases, the location of the incident and the speed of your vehicle may be required. And here, you need to take help from your GPS. Some dash cams have built-in GPS and others require buying an antenna separately. It is nice to have a dash cam that is GPS enabled.
4. Storage Capacity
What's the ultimate storage size for a dash cam? It depends on many relevant factors. As you know, modern dash cam records videos in HD quality. It means they are extreme in size.
A reasonable memory storage is available in most devices; generally it starts from 8 GB. If your device has a loop recording feature, it is a plus point. This feature allows it to delete the oldest videos when it reaches the limit. And start capturing the new videos.
However, you should go for something that has comparatively larger storage capacity and loop recording feature as well.
5. Front and Rear Dash Cam
For more convenience and security, it is suggested to find a front and rear dash cam which will give you clear front and rear view. It is a dual-lens recorder that captures both, front and the behind. The rear camera works like an extra eye as the front camera give you the same footage what you see when driving.
Since your investment is vital, you should try to save on money and obtain more benefits. If you're enthusiast, you can buy a dual-channel camera with almost the same price as a single-lens. However, in general, many single-lens dash cams provide extreme HD footage.
6. Perfect Night Vision
Do you drive only in the daytime? – No, drivers need to drive anytime, maybe in the night, in low light conditions or the fog. As accidents do not follow any timetable, they can take place at night too.
So you need to find a dash cam that has true night vision feature which can record great videos in the low light condition. It will be capable to capture videos at night with more details such as number plate. Perfect night vision can be identified also by infra-red lighting capability. It enables your dash camera to capture images with necessary details.
7. Dash Cam with Parking Mode
Everyone like to attain complete protection of their vehicles, even when they are away from their vehicles. Maybe in the parking lot, when the vehicle is stationary, anything unexpected can occur. Irresponsible drivers can hit your vehicle and run or someone intentionally can do harms.
The dash cam with parking mode will continue to record in this situation. Though the ignition is turned off, it will continue working. Some dashcams utilize the motion detection feature. They only record if something significant happens around the vehicle. They actually save on storage and fuel consumption.
8. Remote Access
It is truly amazing to monitor your vehicle from a distance. You will not always stay with your vehicle but the truck's condition of that time will bring peace in your mind.
Therefore, you need a dashcam that has a remote access facility. This will allow you to receive real-time video footage and you can know what is going on there. Moreover, you can get push notifications of speeding, impact, and other relevant things on your mobile or computer.
9. The Durability of the Camera
It is always better to have a durable dashboard camera. Always try to go for a high-quality dashcam that will serve you with all the necessary things when your vehicle will hit on the busy road.
In general, low-quality model and lesser-known brands do not offer a sturdy and efficient product. As you don't like to see a broken device after a few months of usage, you should buy something stable and durable.
Final Verdict
It is quite difficult to find anything pitch-perfect from a large selection. I know this well and so this article is developed to help you find the best dash cam for truckers from a large variety of selection. Don't be bothered to get this article enough longer. I thought it will help you to go deeper and know all the necessary things before buying a dash cam for a trucker. Therefore, I added most of the relevant factors in this article.
All the above-mentioned dash cameras come with exclusive features. I'm not indicating any of them specifically as the superior among the rest of others. You may choose any of them. Actually, they all are excellent. So, it is better – spend some time on this page and find which dashcam perfectly meets your preferences and will be helpful for your fleet safety. It is my pleasure if this article can save your time and help you to choose the perfect dash cam for you. I hope this will certainly help you.
Recommended Resources:
* How to Remove a Tire from a Rim
* 10 Best Spray Paint for Rims 2020
* How Many Cubic Yards in A Dump Truck